Stargazing at Joshua Tree
09/20/22
The night sky is a glittering dome, peppered with sparkling points of light. And what better venue to view this than in the desert?
Most people don't get to see this fantastic light show, since they remain in towns and cities full of atmospheric pollution that drowns out the brilliance of the stars. This is a big loss; for millennia, our ancestors have enjoyed a dark night sky. Cultures the world over have told stories about the constellations and have used the stars as a calendar.
Joshua Tree National Park has been designated an International Dark Sky Park by the IDA (International Dark-Sky Association.) This offers visitors a unique chance to admire the Milky Way uninhibited; perhaps for the first time in their lives.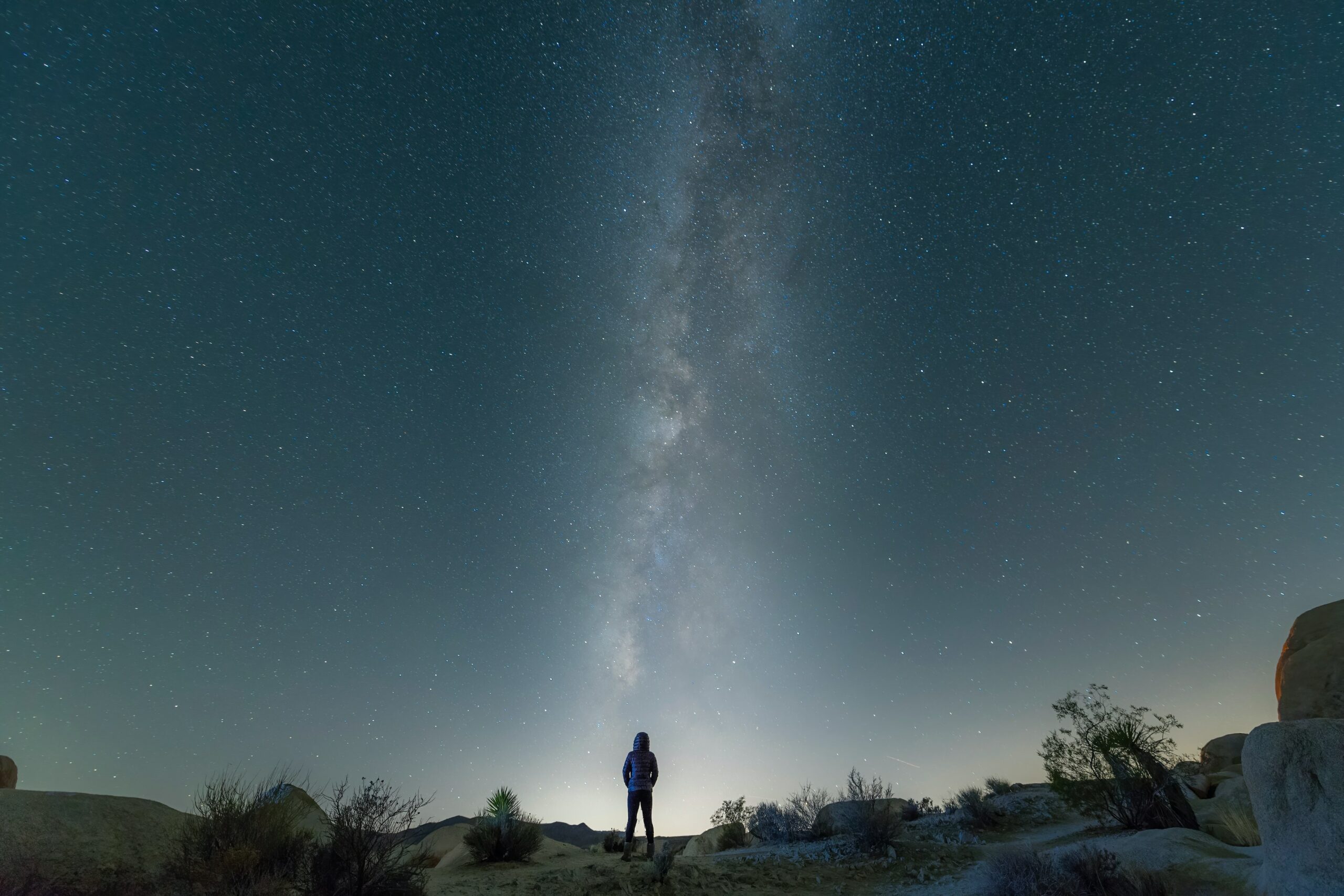 Tips for Stargazing
Use red lights only. Do not bring flashlights, headlamps, or other tools emitting white light. Turn off your cell phones. Give your eyes 20-30 minutes to adjust to the low light conditions; any artificial light will only delay the process. You can turn a regular flashlight into a red light by covering it with red cellophane, tape, fabric, or paper.
Bring food and water. There is no running water at Joshua Tree NP, so bring enough for at least a couple of hours.
Layer Up. Even though it gets hot during the day, once the sun sets things cool down considerably. Keep an eye on the forecast and dress accordingly.
Bring a Chair. Comfortable folding camp or lawn chairs will do. Bring one for each person in your group to minimize strain, and be aware of cacti in the area.
Watch Your Step. Don't trample on vegetation, and watch out for uneven terrain and nocturnal animals. Use that red light to illuminate your way.
Avoid the Moon (if you can). The brilliant light of the moon, funny enough, can hinder your ability to see the stars clearly. Check the moon's phases, its rising and setting times, to find the best time for stargazing.
Where to Best View the Stars
You should have no problem viewing the night sky anywhere in Joshua Tree National Park. But because some areas are closer to communities than others, there are ideal darker spots.
Roadside Pullouts. Park at any of the pullouts along the road, set up your chairs, and settle in for a little while. The Pinto Basin Road between Cottonwood and Cholla Cactus Garden has the darkest skies in the park.
Things to Remember
Overnight camping is not allowed in parking lots or along roadsides.
Pets must be kept on a leash at all times and are not allowed in the backcountry or on the trail.
Watch your step in the darkness! Use a red flashlight and wear closed-toes shoes.
Day Use Only areas are closed from dusk to dawn to protect the wildlife.
Joshua Tree NP never closes. If the entrance fee stations are closed, please proceed and enjoy your visit here! If they are open when you leave, you can pay upon exiting.
Night Sky Programs are regularly available by rangers. The Joshua Tree NP Visitor Center will have information on current programs.
Get out and enjoy the brilliance of the night!