Best Rock Climbing in Joshua Tree National Park
01/04/23
Joshua Tree National Park draws rock climbers from all over the world; it's one of the planet's most popular climbing destinations. The park has what every climber loves – dozens of epic routes to explore, with thousands of cracks, slabs, and boulders piled across a vast desert landscape. If there was ever a location pulled straight from a Dr. Seuss book, Joshua Tree NP is it.
Located in the Mojave on a high desert plateau, the entire park is rich in history and beauty. Best experienced during the late fall and early spring, this area is great for experienced climbers to discover new areas in Joshua Tree. But there are also lots of easy climbs for the amateur rock climber.
Take note! These only represent a fraction of the fantastic climbs in Joshua Tree. But this is an excellent start.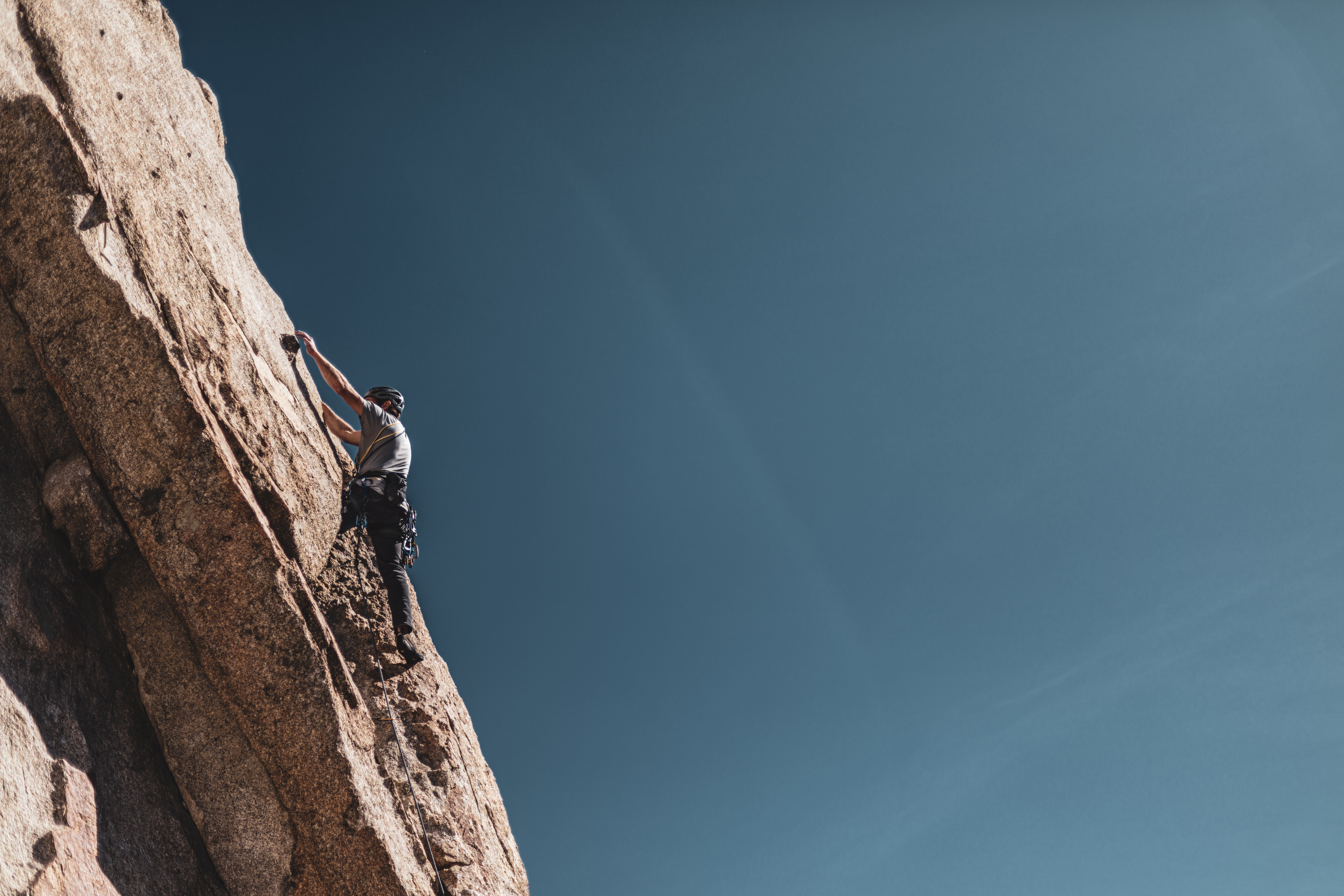 Best Tips for the Joshua Tree Beginner
For simplicity's sake, any climb that is rated 5.8 or lower is considered an "easy" climb. Be sure to bring a trad rack up to 3". Bring slings to extend pieces, as well as anchor building gear. Many of the descents require walk-offs on sketchy 4th class ramps, where approach shoes are recommended. It's required that you know the basics of rock climbing and have done some rock climbing before. Joshua Tree is not a place for beginners.
For gear you might have forgotton or for last-minute needs, Nomad Adventures is the best gear shop near Joshua Tree.
The Best Time to Climb Joshua Tree
Spring and autumn are ideal climbing seasons at Joshua Tree, although winter is pretty fine, too. Temperatures are mild during the day, and cool and crisp at night. Summer is the worst time, for obvious reasons, as this is a desert, after all. Midday temperatures are just too hot and there is shade to be had, although for rock climbers, there is a real danger of being out in the direct rays of the sun for too long.
Best Climbing Routes at Joshua Tree
The Eye, The Cyclopes (5.4)
Ascending an east-facing cleft, The Eye is a heavily traveled route across from Hidden Valley Campground. With big, friendly holds and a series of cracks, this is one of the most laid-back routes in the area. The climb ends at The Eye cave and offers excellent views of Hidden Valley Campground. It's a popular spot for climbers to relax and hang out. Bring a drink or three and toast a wonderful climbing day.
This is a great introduction to Joshua Tree Climbing because of its easy approach. It is long but gentler than nearby climbs. Use a rack up to 3". Bolted anchors are not needed; instead, a gear belay is good, and this climb has a walk-off descent.
Double Cross – The Old Woman, (5.7+)
This is arguably the most popular route in Joshua Tree. Double Cross is located on Hidden Valley Campground's Old Woman crag, and sees more ascents than any other line. With its roadside approach, it has a low angle, moderate grade, and bolted anchors, and there almost always seems to be a line of climbers waiting to tackle her.
But despite its moderate grade, Double Cross should not be taken lightly, thanks to the number of accidents seen here by beginning climbers. Caution should be exercised with every climb, no matter how forgiving the terrain. Having said that, Double Cross remains one of the easier climbs; just be sure you have developed solid crack climbing skills. A BD #4 size may help to protect its heady, run out start. And don't forget your bolted anchors.
Toe Jam, The Old Woman (5.7)
This is a great climb just around the corner from Double Cross. Toe Jam is not a pure, clean crack line, but it combines the best parts of Joshua Tree climbing into one package. So if Double Cross is too crowded, come here.
For those not familiar, this will be a crash course in crack climbing, so have your head game on. Located in the middle of Hidden Valley Campground, Toe Jam starts up a crack before entering a right leaning flake. Then lay back up a slab to the finger crack crux before finishing at a gear belay on top of the climb.
Use double rack protection up to 3", and belay off of a gear anchor. Descend by rappelling off of a 2-bolt anchor located 20 feet to the right.
Leaping Leaner, Locomotion Rock, Real Hidden Valley (5.7)
If you don't want to wait in line at one of the more popular climbs, Leaping Learning is a solid alternative. It follows a left leaning hand crack to a notch on top of Locomotion Rock. Begin the climb with a slabby unprotected start for coming upon a cruiser crack. This climb is similar to Double Cross, just without the crowds.
According to old lore, leaders on this climb would start by jumping from the lip of a large boulder. Those who stuck the jump would start right into the hand crack, and if you missed, you'd have a nasty fall. We obviously do not recommend this! Instead, do the jump on top rope. For protection: rack up to 3", and double hand sizes for new leaders. As with most climbs at Joshua Tree, bolted anchors are needed.
Dolphin – Isles in the Sky (5.7), Split Rocks
The prospect of climbing wide cracks is a dirty, sometimes hopeless endeavor, but many avid climbers are happy to do it. These cursed souls clearly have something to prove, but that just adds to the fun. The key term here is offwidth, and many rock climbers shudder at the thought. Even "easy" width climbs are avoided by many.
Enter Dolphin. A center piece of Split Rocks in Joshua Tree, it starts out easy enough, but don't get too comfortable. Many a climber has been lulled into a false sense of security ushered in by a friendly beginner hand crack. At the 40-foot mark, things begin to widen, and they quickly become acquainted with the reputation of The Dolphin.
Having said that, this is a rewarding climb. It will test all of your offwidth techniques. Fun fact: There ARE no good offwidth techniques. Use a standard rack up to a BD #5, or similar. Two #5's are recommended. With bolted anchors, descend via rappel, or walk down a 4th class ramp.