5 Reasons to Visit Joshua Tree This Fall
10/09/23
Wondering when is the best time to go to Joshua Tree National Park?
Joshua Tree offers unique experiences in the autumn months, starting from late September to November. With fewer crowds compared to spring, this is an opportune time to explore the park's magnificent landscapes, including captivating rock formations.
The cooler temperatures in autumn make hiking more enjoyable, and the changing colors of the desert vegetation offer breathtaking photo opportunities. Additionally, the chances of encountering impressive wildlife increase during this time, as they emerge from the summer heat.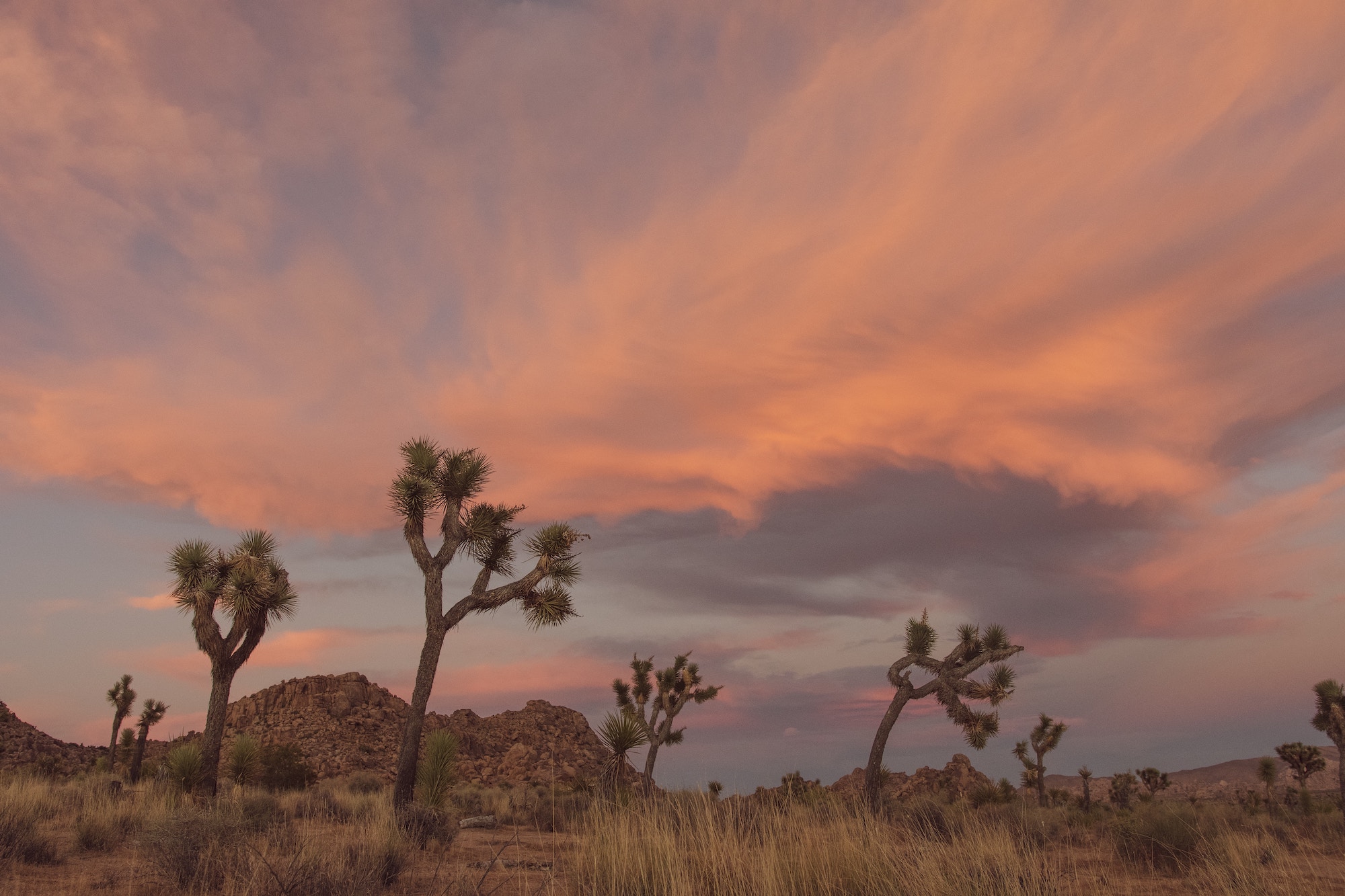 Cooler Weather
Joshua Tree can reach temperatures exceeding 90 degrees in the summer, while in October through November, the daytime temps become much more manageable and make hiking and exploring much safer! This makes Joshua Tree ideal for tourists to discover.
Evenings in the park tend to be significantly cooler and far less crowded – an excellent opportunity for sunset and sunrise viewing as well as stargazing after darkness falls!
Amazing Stargazing
Joshua Tree offers one of the most exquisite night sky experiences available today, free from crowds that may otherwise occupy parks during the summer and spring seasons.
On a moonless night, you can witness numerous constellations and meteors. With proper equipment and knowledge, astronomers can capture stunning astrophotos. Skull Rock, Cap Rock, and Arch Rock are excellent spots for stargazing in Joshua Tree.
Enjoying dark skies during a new moon phase is another fantastic way to witness their wonder. In particular, days leading up to and following this phase offer the darkest skies possible and allow you to view as many stars as possible; you might spot Orion, Gemini and Taurus constellations, plus meteor showers like Perseid Meteor Shower in August and Pegasus in autumn.
Annual Music Festival
The Joshua Tree Music Festival takes place annually between October and November and makes for a wonderful time to visit, with milder temperatures still ideal for outdoor activities, and fewer visitors than in summer months.
This four-day event features the best new talent from music and art, in an inclusive family festival setting. Music is not the only focus here – workshops and performances covering everything from yoga to dance are also included!
Outside the festival, fall is an excellent opportunity to explore Joshua Tree. Take the slick and steep trail at Skull Rock or wander through Cholla Cactus Garden to gain familiarity with some of its remarkable desert national park flora.
Beautiful Desert Hikes
Joshua Tree offers picturesque rocky landscapes that offer hiking trails for every level of experience, from beginner to expert hiker. In addition, wildflowers bloom throughout the desert landscape to create incredible photos.
If you want to hike Joshua Tree, fall and winter are the optimal times. While Joshua Tree Park remains popular during these seasons, you have a greater chance of finding solitude on some of its most popular trails – particularly Ryan Mountain Trail with its boulder masses, moderate difficulty and gorgeous oasis setting! Or try 49 Palms Oasis Trail for lush fan palm trees set amidst beautiful oasis scenery! Additionally, other easier hiking trails tend to be less busy at these times of year.
Wildlife Spotting Opportunities
No matter your interests – history buff or amateur astronomer alike – Joshua Tree offers something to explore and enjoy for everyone. From its cartoonish boulders that defy gravity to climbing formations that challenge even experienced rock climbers, this California desert gem offers something special.
As you drive the park's paved roads, keep an eye out for various species of wildlife. You could spot Scott's orioles building their nest with spiny yucca branches or desert night lizards zipping about. With any luck, you might even spot an elusive pronuba moth!