Your Guide to Joshua Tree National Park
10/31/22
From its iconic boulders to skies that seem otherworldly bright to the magnificent trees that give the park its name, there is no other magical place quite like Joshua Tree National Park. It sort of feels like you're on another planet when you visit here, with endless places to explore.
The mesmerizing features of this park take you on an adventure you didn't quite expect, and yet are happy to be surprised by, with plenty of paths to journey down. First-timers will want to plan accordingly, especially if time is limited.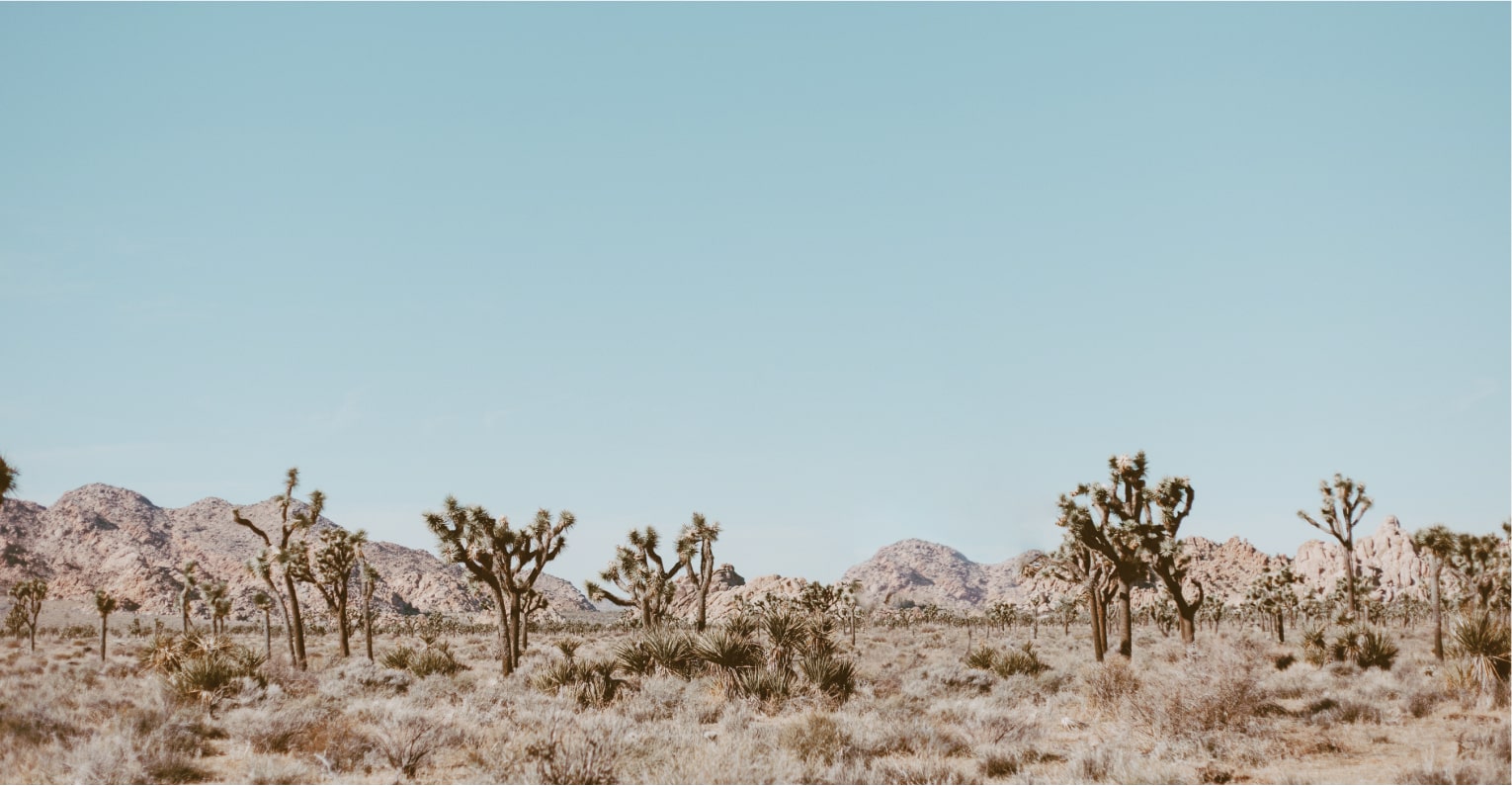 How to Enjoy Joshua Tree National Park
Entrances – Joshua Tree has three main entrances; west, north, and south. The one most used is the west entrance, so if you're going during the busy seasons of spring or fall, try to enter through the south near the Cottonwood Visitors Center or through the north near Twentynine Palms.
If you live fairly close by or think you'll be visiting more than once in a given year, then it pays to invest in the $55 yearly pass. Otherwise, the entrance fee for a consecutive 7 days is $30 (as of this writing). Better yet, if you will be visiting more than one national park during the year, a wise investment is buying the $80 National Park Pass.
When to Go – Any time of year is a fine time to visit, except perhaps in the heat of summer, when temperatures soar well above 100 degrees Fahrenheit. If you do come during the hotter months, be sure to do your hiking in the early mornings or try your hand at night hiking.
The best time to go is in Spring; however, it's also the most popular time, so expect many others to share this magical journey with you. Temperatures range between 50 – 85 degrees, and the flowers around this time are gorgeous! The Joshua trees are in full bloom, along with cacti and other desert flora.
Fall is another ideal time, although things don't start cooling down really until November. Winter is an interesting time, as temperatures are still pretty warm during the day, but dip very low at night. Dressing in layers is essential! The upside is that the park is more private with few people around, and you may just find you have certain areas all to yourself.
Things to Do in Joshua Tree National Park
Hiking – with hiking galore on and off the trails, this is the main draw of the park and the best way to experience the two distinct desert ecosystems, the Mojave and the Colorado, with their vast variety of plants and animals.
The hiking here is superb. One great hike is the 4-mile Lost Horse Mine Trail. Mining has a rich history in this area, and at one time there were 300 mines in Joshua Tree NP. The hike offers stunning views that take you to one of the mines. Unfortunately, due to instability, the mine itself is blocked off, but is still cool to see from a distance.
While there are many trails to explore, the best ones are described in our Joshua Tree Hiking blog article here, as well as the Area section of our website.
Plant Life – with over 750 species of plants, trees, and cacti in the park (including 44 different species of rare plants, enthusiasts from far and wide come here to check them out. Many of the plants and trees here are protected, so it is a look-but-don't-touch love affair. Check out the Cholla Cactus Garden where you'll get to walk through hundreds of cholla, which looks a bit like coral. It's a beautiful cactus you won't want to miss seeing.
Where to Take the Best Photos in Joshua Tree
Everywhere you go in the park are great photo opportunities, but among the best is Skull Rock. Aptly named, the human skull-like formation looks really great on camera. It's located off the main Park Boulevard and is really cool to see later in the day when the evening shadows start to creep up.
Epic sunrise and sunset photos can be had at Keys View – the highest viewpoint in Joshua Tree. From here you can see down to the Salton Sea and Palm Springs when the weather cooperates. Another famous area to photograph is Arch Rock. Astrophotographers especially enjoy this spot after nightfall when the Milky Way sparkles high overhead of this impressive rock formation.